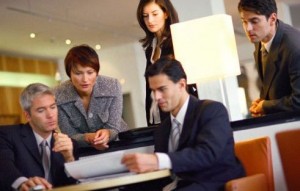 The successful implementation of  the Six Sigma methodology requires that  the senior leaderships plays a vital role in the aligning the entire organization and inculcate the Six Sigma culture. Committed leadership involving  senior executives, master black belts, black belts, and green belts works closely and challenges effectively.
Different types of training are available based on the ranks of the professional in the organization. Companies need to recognize who in the organization requires training and what type of training should be imparted to them.
Senior Management  :  This level  includes  the top managers of the organization like CEO,CIO etc who are responsible for implementing Six Sigma in their operations. They set and drives the business goals . This training incorporates the program overview, business and financial benefits of implementation, business and real-world examples of successful deployments and specific applications to business and industry. It may include the black belt training as well.
Functional or Process Managers : This level includes functional managers from areas like finance, HR, Training etc and process managers from areas like production, call center etc  who reports to Senior management and follows their strategy into actions.  They also known as sponsors and champions. Their training is more detailed than that imparted to senior management. Training may include Black Belt Training apart from topics like Six Sigma concepts, methodologies, tools and requirements and helps to ensure successful implementation within the organization.
Quality Leaders : This level includes Quality Managers and Master Black Belts who help functional and process Managers to set and lead the Six Sigma Vision within their specific areas.  Training includes the detailed information about the concept, methodology and tools, as well as detailed statistics training and computer analysis tool use and may extend from three to four weeks.
Project Leaders :   This level  includes the Project Leaders who are also called Black Belts. They are responsible for implementing theSix Sigma methodology and tools within the business. Training includes detailed information about the concept, methodology and tools of Six Sigma.
Employees: This level includes the lower rank employees also called as Green Belts . Training is specifically developed for  part-time project leaders and includes the  Black Belt training program which is  shorter in duration as less detail on complex tools and statistics is provided. In complex cases employees are recommended to ask Black belts for assistance.