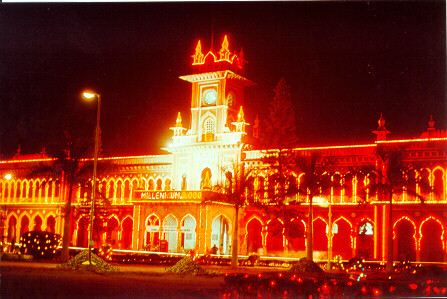 Coimbatore is the third largest city of Tamil Nadu and also known as Manchester of southern India. It is situated on the banks of the Noyyal River and is famous for its textile factories, engineering firms, automobile parts manufacturers, health care facilities, educational institutions, pleasant weather and hospitality.
The city's relies on engineering and textiles for its economic growth.  Mangalore also houses the country's largest amount of hosiery and poultry industries.  In recent years Information technology companies have started their businesses after the IT boom.
Training Providers :  There are various institutes which provides training and certification in Six Sigma Methodologies. Few of them are listed below
Cyberr Computer Centre
#125 Ondipudur, Trichy Main Road, Coimbatore – 641016
Global Computer Education
1670/11, Cauvery Complex, Near Hero Honda Show-room Ramanathapuram, Trichy Main Road, Coimbatore – 641046
King`s Computerised Documentation Centre
Office: 8/7 Gopalapuram, 1st Street, Coimbatore – 641018
Shrimathi Computer Center
No 55 Gopalapuram, 3rd Street, Coimbatore – 641018
Veegees Education Institution
Sivasakthi Tower, Kuniamuthur Bus Stop, Palakkad Main Road, Coimbatore – 641008
Course Fees :  The Course fees vary from the institute to institute and also depends on the type of certification one is interested in pursuing.  Usually the course fees for different certification are as follows.
Green Belt Certification Fees  :  Rs 15000 to  Rs 20,000
Black Belt Certification Fees  :   Rs 40000 to Rs 60000
Master Black Belt Certification Fees : Rs 60000 to Rs 80000.
Certification provided :  Wide range of certifications and training programs related to Six Sigma and other quality management programs are provided by various institutes.
Most common certification programs offered by Six Sigma institutes are as follows :
(1)    Six Sigma Green  Belt Certification
(2)   Six Sigma  Black Belt Certification
(3)    Six Sigma Master Black Belt Certification
(4)    Six Sigma Champion Training