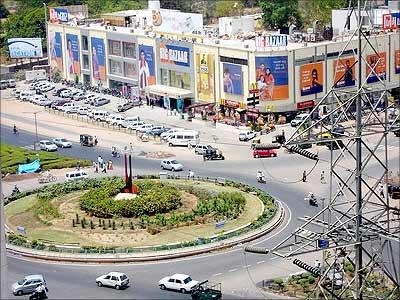 Ahmedabad is the largest city in the state of Gujrat and one of the largest, modernized and developed cities of India. It is located on the banks of the river Sabarmati. This city is the administrative centre Ahmedabad and was known as the "Manchester of the East" earlier for its largely expanding realms of the textile industry.
Ahmadabad has a booming chemicals and pharmaceuticals industry including Zydus Cadila and Torrent Pharmaceuticals. The city serves as the corporate headquarters and offices of various companies including the Adani Group, Nirma, Bosch Rexroth, Stork, Johnson Pumps, Sweden, etc. IT industry has grown significantly in Ahmedabad and as per NASSCOM survey in 2002, Ahmedabad was ranked fifth among the top nine most competitive cities and "Super Nine Indian Destinations" for IT-enabled services in the country.
Training Providers:  There are various institutes which provide training and certification in Six Sigma Methodologies. Few of them are listed below
(1)   Benchmark Six Sigma
Ahmedabad
ahmedabad@benchmarksixsigma.com
Tel : +91-93779 29779
(2)   NIIT Imperia
Ahmedabad
303, 3rd Floor, 3rd Eye Building,
Panchavati Circle, CG Road,
Ahmedabad – 380006
(3)   Onus India
#FU1, Shailabh Complex, Vastrapur, Polytechnic, Ahmedabad – 380015
(4)   Pearl Infotech
Mothilal Chamber, 6th Floor, Ashram Road, Ellis Bridge, Ahmedabad – 380006
(5)   Sultan Ahmed Computer Centre
Sultan Ahmed Computer Centre, Salapose Road, Ahmedabad G.P.O., Ahmedabad – 380001
Course Fees :  The Course fees vary from the institute to institute and also depends on the type of certification one is interested in pursuing.  Usually the course fees for different certification are as follows.
Green Belt Certification Fees  :  Rs 15000 to  Rs 20,000
Black Belt Certification Fees  :   Rs 40000 to Rs 60000
Master Black Belt Certification Fees : Rs 60000 to Rs 80000.
Certification provided :  Wide range of certifications and training programs related to Six Sigma and other quality management programs are provided by various institutes.
Most common certification programs offered by Six Sigma institutes are as follows :
(1)    Six Sigma Green  Belt Certification
(2)   Six Sigma  Black Belt Certification
(3)    Six Sigma Master Black Belt Certification
(4)    Six Sigma Champion Training