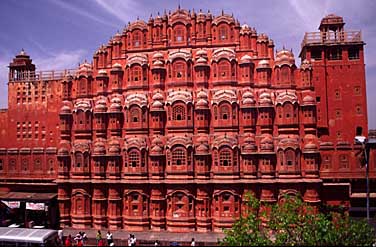 Jaipur is also known as the Pink City and it is the capital of Rajasthan. Jaipur has been ranked 31 among the 50 Emerging Global Outsourcing cities. Genpact and Infosys have set up their BPO operations in Jaipur. Genpact office in Jaipur is one of its fastest growing locations. In Real Estate Sector, Jaipur has shown promising signs and the business is flourishing well from last 2–3 years. Some of the MNC's in Jaipur are MICO, Coca Cola, IBM, Ericsson and NEI popularly known as NBC Bearings.
Jaipur houses many other prominent international banks including the Reserve Bank of India. In As a matter of fact, India's largest integrated IT SEZ Mahindra World City is located in Jaipur. Jaipur is one of the best planned cities of India and it was master planned by Jurong Constructions Singapore. Major companies like Infosys, TCS, Wipro, Tech Mahindra, Truworth and Deutsche Bankhave their offices in Jaipur. World Trade Park is also coming up in Jaipur shortly.
Training Providers:  There are various institutes which provide training and certification in Six Sigma Methodologies. Few of them are listed below
(1)   Qualicon Consultancy Co                                                                                                                                                         C Scheme, Jaipur-302001
(2)   Kamtech Associates Pvt. Ltd.
218, 307, Shri Gopal Tower,
Ashok Marg, Near Ahinsa
Circle, C-Scheme,
Jaipur – 302001 (Rajasthan) India
(3)    Ascent Computer Education
V K I Area, A/76, Op Road No/2, Murlipura Scheme Road, Muralipura, Jaipur – 302013
(4)   Beyond 2000
189, Ram Gali No 1, Raja Park, Jaipur – 302004
(5)   Stairs Icon
C15, Iind Floor, Diggi House, S.M.S. Road, Jaipur – 302001
(6)   Star Financial Softwares
D-280 Bani Park, Todarmal Marg, Jaipur – 302016
Course Fees :  The Course fees vary from the institute to institute and also depends on the type of certification one is interested in pursuing.  Usually the course fees for different certification are as follows.
Green Belt Certification Fees  :  Rs 15000 to  Rs 20,000
Black Belt Certification Fees  :   Rs 40000 to Rs 60000
Master Black Belt Certification Fees : Rs 60000 to Rs 80000.
Certification provided :  Wide range of certifications and training programs related to Six Sigma and other quality management programs are provided by various institutes.
Most common certification programs offered by Six Sigma institutes are as follows :
(1)    Six Sigma Green  Belt Certification
(2)   Six Sigma  Black Belt Certification
(3)    Six Sigma Master Black Belt Certification
(4)    Six Sigma Champion Training