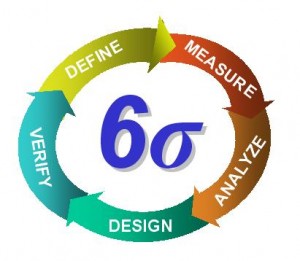 DMADV methodology is an acronym for five interlinked process steps: Define, Measure,Analyze, Design and Verify. It's a strategy for the creating new product and designing new processes. The objective of this  methodology is to create designs which are predictable and do not have any defects.
Define
In First step the design goals are defined so that they are consistent with the demands of the  customer and goals of the company.
Measure
In this step four things are measured and identified which includes the CTQs(Critical to Quality), production process capability, product capabilities and risks.
Analyze
This step deals with the process of Analysis  to develop and design alternatives. A high level design is created and evaluation of design capability is being done so that to select the best design.
Design
In this step the Design details are considered.  The design is optimized and plan for the verification of designed is developed. Simulations may be required during this step.
Verify
This is the last step of the methodology and it includes the verification of the design, setting of the pilot runs, implementing the production process and verifying its abilities to meet the target goals. After  verifying the design it is given to the owner of the process.
Difference between DMAIC and DMADV
DMAIC and DMADV are two different methodologies for implementing the six sigma. They have similar first three letters in their acronyms however they differ fundamentally from each other in their usage as per  the product  or process state and requirement. DMAIC is used for the existent processes and DMADV is used for the new processes.
If we look at the steps we can make out both the methodologies have similar first three steps and they differ in the last two steps. While DMAIC focuses on improving and controlling the process, DMADV stresses on designing and verifying the process design.
When to use DMADV
(1)   When a new product needs to be created or a new process is designed
(2)   When desired results are not obtained with the DMAIC methodology on existent product and processes.