Six Sigma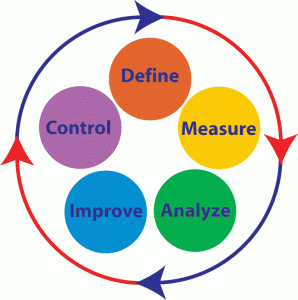 Six Sigma is an data driven approach used by many organizations that strives to achieve quality & perfection. It is a methodology used to eliminate defects & to determine the performance of the process. A defect is anything that is outside or against customer requirements. To achieve this, a process should not produce defects more than 3.4 per million opportunities.
DMAIC
DMAIC is one of the six sigma methodologies used for solving problems & bringing in improvement in process or products. DMAIC refers to Define, Measure, Analyze, Improve & Control.
A DMAIC methodology should be mainly used when a company has continuous production but the goods produced are not according to the required customer specifications or when the expected level of performance is not achieved.
Define : In this phase, the goals relating to the project are defined. It mainly concentrates on defining customers & their requirements. The goals, benefits, team spirit & problem solving statements are developed.
Measure : This phase measures the performance level of the process & also identifies the problems. Data is collected & the defects, relationships, collection plans, opportunities, etc are defined in detail.
Analyze : In this phase, the root cause of the defects is thoroughly analyzed & determined. The objectives for Performance is set & the causes of variations are defined.
Improve : Improving is a process of eliminating the defects in an project. Here different experiments are conducted, potential solutions are developed, causes of failure are identified & corrections relating to developing of potential solutions are carried out.
Control : In this phase, future performance levels are controlled. Here a proper monitoring & control systems are developed. Standards are defined, procedures, statistical control processes & capabilities of the process are developed & effectively implemented. It is necessary to avoid cost, implement cost saving techniques, concentrate on profit growth, finalize documents & close the project successfully.
Though DMAIC is a recognized methodology, some people have added another component to it i.e. DMAICR where R refers to Realize. Some people don't agree to it. They believe that six sigma is just a counter-part but with good improvement in a process & proper implementation of productive methods can enhance financial gains.
Six Sigma is a well defined approach in problem solving which focus on customer requirements & the impact of it. Statistical tools & analysis are used to develop an useful process. Six Sigma is being used in different fields such as production, business, medicine, administration, engineering, product designing, manufacturing, quality management, etc.