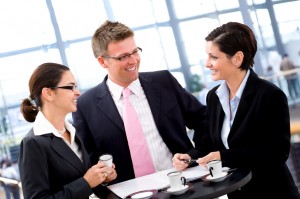 Total Quality Management is a concept that focuses on continuous improvement of work in all areas by high level strategic planning, decision making and executing the details. It results in improvement in people, processes and technology. It is evolved in the 1950's and popularized in 1980's.
TQM work culture demands quality in all aspects of organization and stresses on eradication wastes from the system and correct execution of the processes consistently. It combines the quality and management tools to bring about reduction in losses and increment in business. The culture of TQM emphasizes on involvement of both the management and employees to bring about improvement in production of goods and customer satisfaction.
Some of the companies who have implemented TQM include Ford Motor Company, Phillips Semiconductor, SGL Carbon, Motorola and Toyota Motor Company.
TQM stresses on incorporating the knowledge and experiences of workers to bring about continuous improvement. "Do the right things, right the first time, every time" is the objective of TQM. It is recognized as a generic management tool that is applicable in service and public sector organizations in addition to manufacturing sector.
TQM involves a wide range of activities like , commitment by senior management and all employees, Meeting customer requirements, Reducing development cycle times, Just In Time/Demand Flow Manufacturing, Reducing product and service costs etc.
TQM needs to be applied in all the activities of the organization including Manufacturing, Marketing, Engineering, R&D, Sales, Purchasing, HR, etc
The key principles of TQM comprises of following
Management Commitment: It includes Plan (drive, direct) , Do (deploy, support, participate) , Check (review) , Act (recognize, communicate, revise)
Employee Empowerment: It includes, Training, Suggestion scheme, Measurement and recognition, Excellence teams
Fact Based Decision Making: It includes SPC (statistical process control) , DOE, FMEA , The 7 statistical tools , TOPS (FORD 8D – Team Oriented Problem Solving)
Continuous Improvement: It includes Systematic measurement and focuses on CONQ, Excellence teams, Cross-functional process management, Attain, maintain, improve standards,
Customer Focus: It includes Supplier partnership, Service relationship with internal customers, Never compromise quality, Customer driven standards